Quality Assurances and Approvals
WCRP Ltd believes that the minimum the customer should expect is 'right 1st time'. Our focus on absolute quality avoids the concerns and costs of delays caused by rejections. Customers can rely on our products to be manufactured to a consistently high standard and perform in the most demanding service environments.
ISO 9001:2015 Accredited Rubber Sheeting and Rubber Coated Textiles Manufacturer
Our entire company operates within an ISO 9001:2015 framework which we have held continuously in its various formats since the company was formed in 1983.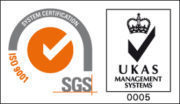 Full Technical and Quality Back-Up
We pride ourselves on offering a first rate technical back up service post sale. It is not only available to the customer after placing an order but throughout the whole period of our association. We believe this to be an invaluable tool for the customer to have at their disposal and has helped us form many long term relationships.
View our ISO 9001:2015 Accreditation.
Customer and Industry Specific Approvals
Serving a multitude of high performance industries such as aviation and defence it is necessary for us to comply with numerous supply chain and end users standards. Commonly these end-users are world renowned blue-chip companies whose duty of care to passengers and crew is second to none.
Testing Laboratory
All products are rigorously tested for compliance with specification in our well equipped in-house modern control laboratory. Quality checks cover the following are conducted to relavant BS, DIN, AMST etc. standards:
Specific gravity and hardness
Tensile strength
Modulus of elasticity
Tear strength
Elongation at break
Bondability tests
Ozone testing
Flex testing
Fuel immersion
Air porosity
Rubber to Textile Adhesion Testing
Rubber Hardness Testing
Back to Top